Booklists
Car & Truck Books
A Truck Goes Rattley-Bumpa
By: Jonathan London
ISBN: 9780805072334
Describes trucks of all sizes, shapes, and colors doing a variety of tasks.
Brownie & Pearl Go for a Spin
By: Cynthia Rylant
ISBN: 9781416986331
When Brownie and her cat go for a spin in her car, neither one is ready for it to end.
Cars
By: Anne Rockwell
ISBN: 9780140547412
Using simple text and illustrations, this book introduces colorful cars of all kinds—and their uses—to young children.
Drive
By: Nathan Clement
ISBN: 9781590785171
In brief text with illustrations, a boy describes his father's work as a truck driver.
Five Trucks
By: Brian Floca
ISBN: 9780789425614
Five different trucks do five different jobs to get an airplane ready for takeoff.
Machines at Work
By: Byron Barton
ISBN: 9780694001903
During a busy day at the construction. site, the workers use a variety of machines to knock down a building and begin constructing a new one.
Minerva Louise and the Red Truck
By: Janet Morgan Stoeke
ISBN: 9780525469094
Fans of the funky chicken Minerva Louise can journey along with her in her red truck as she ventures to the countryside to see and experience all the sights in her very unique way.
Mr. Grumpy's Motor Car
By: John Burningham
ISBN: 9780690007985
Mr. Gumpy's human and animal friends squash into his old car and go for a drive -- until it starts to rain.
My Bus
By: Byron Barton
ISBN: 9780062287366
A bus driver named Joe heads out on his route, stopping at one bus stop after another to pick up passengers. He picks up five dogs and five cats in all, dropping nine of them off at the plane, train, or boat. The tenth passenger, a dog, Joe takes home.
My Car
By: Byron Barton
ISBN: 9780060560454
Sam describes in loving detail his car and how he drives it.
Red Truck
By: Kersten Hamilton
ISBN: 9780670062751
When a school bus gets stuck in the mud, Red Truck the tow truck saves the day by pulling it out.
Red Light, Green Light
By: Anastasia Suen
ISBN: 9780152025823
A young boy creates an imaginary world filled with zooming cars, flashing traffic lights, and racing fire engines.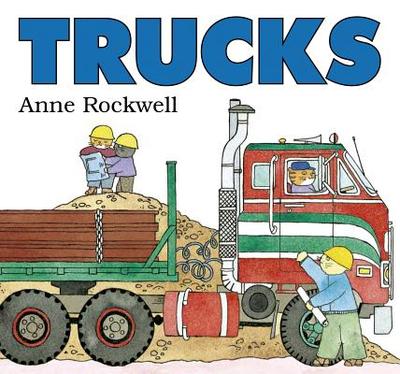 Trucks
By: Anne Rockwell
ISBN: 9780525441472
Introduces a variety of trucks and their purposes. Includes moving vans, tow trucks, bookmobiles, and campers.