Booklists
Food Books
Gladys Goes Out to Lunch
By: Derek Anderson
ISBN: 9780689856884
Gladys the gorilla is tired of eating nothing but bananas, until the day she smells something wonderful that lures her from the zoo in search of a new treat.
How did That Get in My Lunchbox?
By: Chris Butterworth
ISBN: 9780763650056
The best part of a young child's day is often opening a lunchbox and diving in. But how did all that delicious food get there? Who made the bread for the sandwich? What about the cheese inside? Who plucked the fruit? And where did the chocolate in that cookie get its start? From planting wheat to mixing flour into dough, climbing trees to machine-squeezing fruit, picking cocoa pods to stirring a vat of melted bliss, here is a clear, engaging look at the steps involved in producing some common foods. Healthy tips and a peek at basic food groups complete the menu.
Strega Nona: An Old Tale Retold
By: Tomie dePaola
ISBN: 9780671662837
Strega Nona—"Grandma Witch"—is the source for potions, cures, magic, and comfort in her Calabrian town. Her magical everfull pasta pot is especially intriguing to hungry Big Anthony. He is supposed to look after her house and tend her garden but one day, when she goes over the mountain to visit Strega Amelia, Big Anthony recites the magic verse over the pasta pot, with disastrous results.
Rainbow Stew
By: Cathryn Falwell
ISBN: 9781600608476
On a rainy summer day, three children and their grandpa pick vegetables in his garden and then cook and share a delicious meal of his famous Rainbow Stew. Includes recipe.
Muncha! Muncha! Muncha!
By: Candace Fleming
ISBN: 9780689831522
After planting his long awaited dream garden, Mr. McGreely tries to find a way to keep some persistent bunnies from eating all his vegetables.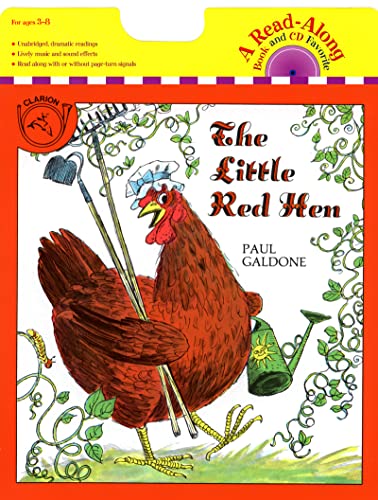 The Little Red Hen
By: Paul Galdone
ISBN: 9780547370187
The little red hen finds none of her lazy friends willing to help her plant, harvest, or grind wheat into flour, but all are eager to eat the cake she makes from it.
A New House for Mouse
By: Petr Horacek
ISBN: 9780763625177
Mouse finds a nice juicy apple--but it's too big to fit inside her tiny home. What can she do? Find a new house, of course! Peep through the die-cut holes and join Mouse on her search.
Groovy Joe: Ice Cream and Dinosaurs
By: Eric Litwin
ISBN: 9780545883788
Groovy Joe is a fun-loving dog with a tub full of ice cream--which he shares with his unexpected dinosaur guests.
Thank You, Omu!
By: Oge Moro
ISBN: 9780316431248
When the aroma of Omu's homemade stew fills the air, her neighbors arrive, one by one, for a taste until all is gone except for her generous spirit.
If You Give a Mouse a Cookie
By: Laura Numeroff
ISBN: 9780060245863
Relating the cycle of requests a mouse is likely to make after you give him a cookie takes the reader through a young child's day.
Bee-bim-bop!
By: Linda Sue Park
ISBN: 9780547076713
A child, eager for a favorite meal, helps with the shopping, food preparation, and table setting.
The Watermelon Seed
By: Greg Pizzoli
ISBN: 9781423171010
After swallowing a watermelon seed, a crocodile imagines a scary outcome.
Little Pea
By: Amy Krouse Rosenthal
ISBN: 9780811846585
Little Pea hates eating candy for dinner, but his parents will not let him have his spinach dessert until he cleans his plate.
Dragons Love Tacos
By: Adam Rubin
ISBN: 9780803736801
Explores the love dragons have for tacos, and the dangers of feeding them them anything with spicy salsa.
Tops & Bottoms
By: Janet Stevens
ISBN: 9780152928513
Hare turns his bad luck around by striking a clever deal with the rich and lazy bear down the road.