Booklists
Toddler Books
All by Myself
By: Aliki
ISBN: 9780060289294
A child shows all the things he has learned to do all on his own.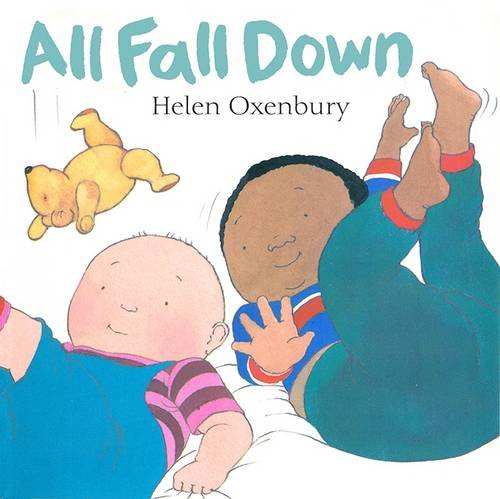 All Fall Down
By: Helen Oxenbury
ISBN: 9780689819858
"A baby enjoys running, singing, bouncing on a bed, and falling down." --MeL
All Night, All Day: A Child's First Book of African-American Spirituals
By: Ashley Bryan
ISBN: 9780689316623
A selection of twenty spirituals with piano accompaniment and guitar chords. Includes "This Little Light of Mine," "He's got the whole world in His hands," and "Get on board."
Best Little Word Book Ever
By: Richard Scarry
ISBN: 9780307001368
Labeled pictures introduce the members of the Cat family, their good friend Lowly Worm, their house, their food, and their drives downtown, to the airport, and to the harbor.
Clifford, The Big Red Dog
By: Norman Birdwell
ISBN: 9780439875875
Emily Elizabeth loves her huge dog Clifford even though he's far from perfect.
Cookie's Week
By: Cindy Ward
ISBN: 9780698114357
Cookie the cat gets into a different kind of mischief every day of the week.
Curious George
By: H. A. Rey
ISBN: 9780395159934
The curiosity of a newly-captured monkey gets him into continual trouble.
Dancing Feet
By: Lindsey Craig
ISBN: 9780307930811
Easy-to-read, rhyming text depicts different animals dancing.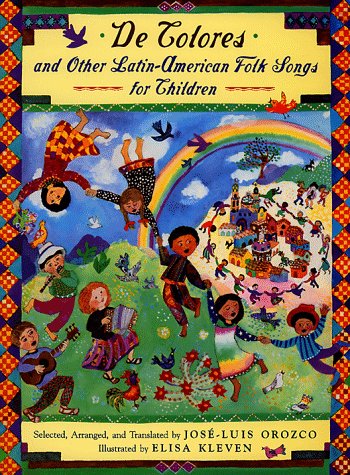 De Colores and Other Latin-American Fold Songs for Children
By: Jose-Luis Orozco
ISBN: 9780525452607
"Lyrics (in Spanish and English) and music of 27 children's songs from Spanish-speaking countries." --MeL
Eat Up, Gemma
By: Sarah Hayes
ISBN: 9780688081492
Baby Gemma refuses to eat, throwing her breakfast on the floor and squashing her grapes, until her brother gets an inspired idea.
Everything Has a Place
By: Patricia Lillie
ISBN: 9780688100827
Text and pictures assign a cow to a barn, a dish to a cupboard, a family to a house, and other things to their place.
Finger Rhymes
By: Marc Brown
ISBN: 9780525297321
Presents 14 rhymes with instructions for accompanying finger plays.
Freight Train
By: Donald Crews
ISBN: 9780688801656
Brief text and illustrations trace the journey of a colorful train as it goes through tunnels, by cities, and over trestles.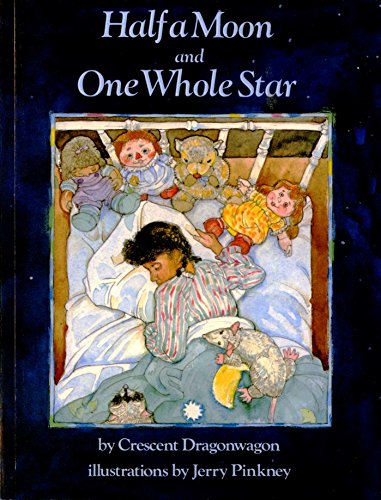 Half Moon and One Whole Star
By: Crescent Dragonwagon
ISBN: 9780689714153
"The summer night is full of wonderful sounds and scents as Susan falls asleep." --MeL
Have you Seen My Duckling?
By: Nancy Tafuri
ISBN: 9780688148997
A mother duck leads her brood around the pond as she searches for one missing duckling.
If You Give a Mouse a Cooke
By: Laura Numeroff
ISBN: 9780060245863
Relating the cycle of requests a mouse is likely to make after you give him a cookie takes the reader through a young child's day.
Is Your Mama a Llama?
By: Deborah Guarino
ISBN: 9780590259385
A young llama asks his friends if their mamas are llamas and finds out, in rhyme, that their mothers are other types of animals.
Jamberry
By: Bruce Degen
ISBN: 9780694006519
A little boy walking in the forest meets a big lovable bear that takes him on a delicious berry-picking adventure in the magical world of Berryland.
Jesse Bear, What Will You Wear?
By: Nancy Carlstrom
ISBN: 9780689809309
Rhymed text and illustrations describe Jesse Bear's activities from morning to bedtime.
Julius the Baby of the World
By: Kevin Henkes
ISBN: 9780688089436
Lilly is convinced that the arrival of her new baby brother is the worst thing that has happened in their house until Cousin Garland comes to visit.
Jump Frog, Jump
By: Robert Kalan
ISBN: 9780060088194
A cumulative tale in which a frog tries to catch a fly without getting caught itself.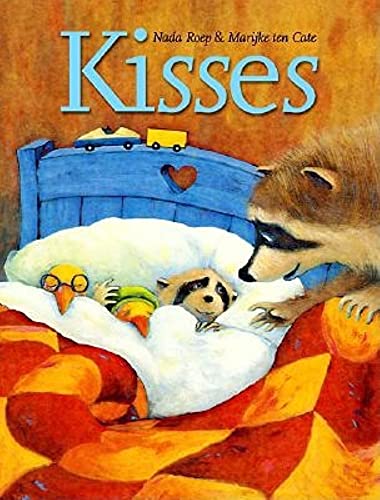 Kisses
By: Nanda Roep
ISBN: 9781886910850
"Lisa the raccoon asks her father for a good-night kiss, but he takes her on an imaginary adventure where kisses come in all sizes and shapes." --MeL
Let's Get Dressed
By: Ruth Walton
ISBN: 9781597713832
"Discusses the different fibers and textiles our clothing is made from, including cotton, wool, and other natural and synthetic fabrics"--Provided by publisher.
Little Gorilla
By: Ruth Bornstein
ISBN: 9780395287736
Little Gorilla's family and friends try to help him overcome his special growing pains.
Mary Had a Little Lamb
By: Iza Trapani
ISBN: 9781580890090
This expanded version of the traditional rhyme shows what happens when the lamb decides to go off alone. Includes music on the last page.
Millions of Cats
By: Wanda Gág
ISBN: 9780698206373
How can an old man and his wife select one cat from a choice of millions and trillions?
Moon Bear
By: Gill Lewis
ISBN: 9781481400947
In Laos, twelve-year-old Tam must work at a bear farm where bears are cruelly caged and milked for their bile, but when a familiar cub is brought to the farm, Tam will do anything to free both the cub, and himself.
"More more more" said the baby
By: Vera Williams
ISBN: 9780688156343
Three babies are caught up in the air and given loving attention by a father, grandmother, and mother.
Mouse Paint
By: Ellen Walsh
ISBN: 9780152560256
Three white mice discover jars of red, blue, and yellow paint and explore the world of color.
Mr. Gumpy's Outing
By: John Burningham
ISBN: 9780805066296
Mr. Gumpy accepts more and more riders on his boat until the inevitable occurs.
Over the Meadow
By: Jane Cabrera
ISBN: 9780823414901
"A variation of the counting rhyme that introduces a variety of animals and their activities." --MeL
Peter's Chair
By: Ezra Jack Keats
ISBN: 9780670880645
When Peter discovers his blue furniture is being painted pink for a new baby sister, he rescues the last unpainted item, a chair, and runs away.
Seven Blind Mice
By: Ed Young
ISBN: 9780590727792
Retells in verse the Indian fable of the blind men discovering different parts of an elephant and arguing about its appearance. The illustrations depict the blind arguers as mice.
Sheep in a Jeep
By: Nancy Shaw
ISBN: 9780547237756
Follows a group of hapless sheep as they careen through treacherous landscapes in a jeep.
Stellaluna
By: Janell Cannon
ISBN: 9780152802172
After she falls headfirst into a bird's nest, a baby bat is raised like a bird until she is reunited with her mother.
Ten in a Bed
By: David Ellwand
ISBN: 9781929766499
One by one nine bears fall out of bed when the littlest bear says "Roll over!"
Ten, Nine, Eight
By: Molly Bang
ISBN: 9780688009069
Numbers from ten to one are part of this lullaby which observes the room of a little girl going to bed.
The Cat in the Hat
By: Dr. Seuss
ISBN: 9780394900018
Two children sitting at home on a rainy day are visited by the Cat in the Hat, who shows them some tricks and games. Includes a Latin-English glossary and a note on the verse form and rhythm.
The Little Red Hen
By: Mary Finch
ISBN: 9781846865756
The little red hen finds none of the lazy barnyard animals willing to help her plant, harvest, or grind wheat into flour, but all are eager to eat the bread she makes from it. Includes recipe for whole wheat bread.
The Very Quiet Cricket
By: Eric Carle
ISBN: 9780399218859
A very quiet cricket who wants to rub his wings together and make a sound as do so many other animals finally achieves his wish. The cricket's sound is reproduced at the end of the book.
This is the Farmer
By: Nancy Tafuri
ISBN: 9780688094683
A farmer's kiss causes an amusing chain of events on the farm.
Wait till the Moon is Full
By: Margaret Wise
ISBN: 9780064432221
A little raccoon wants to see the night but his mother makes him wait until the full moon.
Where's Spot?
By: Eric Hill
ISBN: 9780399207587
A mother dog finds eight other animals hiding around the house before finding her lost puppy. Flaps conceal the animals.
Will I Have a Friend?
By: Miriam Cohen
ISBN: 9780881032970
Jim's anxieties on his first day of school are happily forgotten when he makes a new friend.