Booklists
Camping Books
Camp Rex
By: Molly Idle
ISBN: 9780670785735
Cordelia and her troup of dino-scouts enjoy a camping trip in the great outdoors.
Camping Day
By: Patricia Lakin
ISBN: 9780803733091
Four crocodile friends have many adventures during a camp-out.
Flo & Wendell Explore
By: William Wegman
ISBN: 9780803739307
When Flo takes her little brother, Wendell, camping in their backyard, they use their imaginations to have the best adventure ever.
Gator, Gator, Gator!
By: Daniel Bernstrom
ISBN: 9780062463302
"A fearless little girl takes off in search of a giant gator--but she's not going into that swamp alone! No way! She wants YOU, the reader, to come along. Off you go, peering through the lush landscapes, looking for that gator!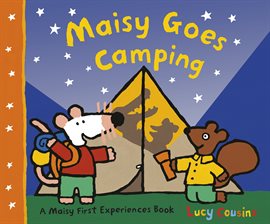 Maisy Goes Camping
By: Lucy Cousins
ISBN: 9781442020498
Maisy the mouse and her friends spend a night camping under the stars.
Ruby's Sleepover
By: Kathryn White
ISBN: 9781846865930
Ruby and her friend Mai are camping out in Mai's garden where giants, dragons, and pirates head toward their tent, but fortunately Ruby has some magical objects to keep the girls safe.
S is For S'mores: A Camping Alphabet
By: Helen Foster James
ISBN: 9781585363025
"Introduces camping from A to Z using poetry, prose, and illustrations in a children's picture book. Includes information on beach camping, canyons, foliage, camping gear, John Muir, Juliette Gordon Low, and more"--Provided by publisher.
Scare a Bear
By: Kathy-jo Wargin
ISBN: 9781585364305
In rhyming text, the reader is asked how to scare a bear if one wanders into camp, or wants to go for a boat ride, or stays for supper.
Vamos a Acampar: Camping Out
By: Kyla Steinkraus
ISBN: 9781618105493
Who Needs It?
By: Eleanor May
ISBN: 9781575652818
When best friends Gus and Mickey go camping, Gus wants to put his survival skills to the test while Mickey brings everything from pizza to a television set.