Booklists
Camping Books
The Camping Trip
By: Jennifer K. Mann
ISBN: 9781536207361
An endearing story about a girl's first experience with the great outdoors.
Oliver and Hope's Adventure Under the Stars
By: Meg Cadets
ISBN: 9780989793797
Come along for the ride as Oliver the bear and Hope the butterfly join their friends Millie the barn owl and Chewie the English bulldog for their first camping trip.
Camping Day
By: Patricia Lakin
ISBN: 9780803733091
Four crocodile friends have many adventures during a camp-out.
Fatima's Great Outdoors
By: Ambreen Tariq
ISBN: 9781984816955
Fatima Khazi is excited for the weekend. Her family is headed to a local state park for their first camping trip!
Flo & Wendell Explore
By: William Wegman
ISBN: 9780803739307
When Flo takes her little brother, Wendell, camping in their backyard, they use their imaginations to have the best adventure ever.
Vamos a Acampar: Camping Out
By: Kyla Steinkraus
ISBN: 9781618105493
Children Get Scared While Camping In The Backyard After Hearing A Scary Story.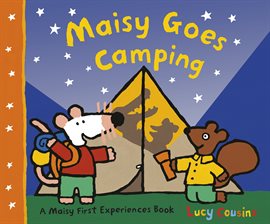 Maisy Goes Camping
By: Lucy Cousins
ISBN: 9781442020498
Maisy the mouse and her friends spend a night camping under the stars.
Flashlight
By: Lizi Boyd
ISBN: 9781452118949
Readers can experience the wonder and excitement of nighttime exploration in the woods and wordlessly entices readers to explore the hidden nature outside their own homes.
Ruby's Sleepover
By: Kathryn White
ISBN: 9781846865930
Ruby and her friend Mai are camping out in Mai's garden where giants, dragons, and pirates head toward their tent, but fortunately Ruby has some magical objects to keep the girls safe.
S is For S'mores: A Camping Alphabet
By: Helen Foster James
ISBN: 9781585363025
Introduces camping from A to Z using poetry, prose, and illustrations in a children's picture book. Includes information on beach camping, canyons, foliage, camping gear, John Muir, Juliette Gordon Low, and more.