Booklists
Car & Truck Books
A Truck Goes Rattley-Bumpa
By: Jonathan London
ISBN: 9780805072334
Describes trucks of all sizes, shapes, and colors doing a variety of tasks.
El Camioncito Azul
By: Alice Schertle
ISBN: 9780547983974
El camioncito Azul is a joyful cacophony of animal and truck sounds in verse that will have youngsters beeping and quacking—and begging for one more go-round
¡Exploremos! Vehículos en la ciudad
By: Jolas Wittler
ISBN: 9798567215203
Five Trucks
By: Brian Floca
ISBN: 9780789425614
Five different trucks do five different jobs to get an airplane ready for takeoff.
Machines at Work
By: Byron Barton
ISBN: 9780694001903
During a busy day at the construction. site, the workers use a variety of machines to knock down a building and begin constructing a new one.
Mi Carro
By: Byron Barton
ISBN: 9780062455444
Minerva Louise and the Red Truck
By: Janet Morgan Stoeke
ISBN: 9780525469094
Fans of the funky chicken Minerva Louise can journey along with her in her red truck as she ventures to the countryside to see and experience all the sights in her very unique way.
My Bus
By: Byron Barton
ISBN: 9780062287366
A bus driver named Joe heads out on his route, stopping at one bus stop after another to pick up passengers. He picks up five dogs and five cats in all, dropping nine of them off at the plane, train, or boat. The tenth passenger, a dog, Joe takes home.
Truck
By: Donald Crews
ISBN: 9780688155971
Follows the journey of a truck from loading to unloading.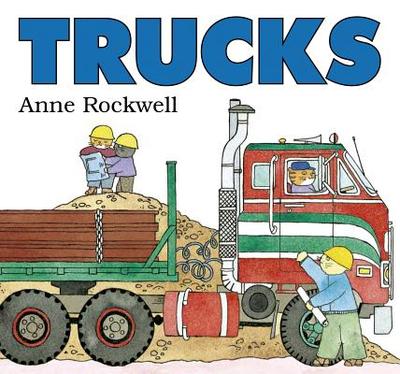 Trucks
By: Anne Rockwell
ISBN: 9780525441472
Introduces a variety of trucks and their purposes. Includes moving vans, tow trucks, bookmobiles, and campers.
Supertruck
By: Stephen Savage
ISBN: 9781596438217
When the city is hit by a colossal snowstorm, only one superhero can save the day. But who is this mysterious hero, and why does he disappear once his job is done?"-- Provided by publisher.
Vehículos
By: Scarlett Wing
ISBN: 9781680526196
Vroom Vroom Garbage Truck
By: Asia Citro and Troy Cummings
ISBN: 9781943147434
A garbage truck goes through its daily routine of picking up garbage throughout the city and bringing it to the dump, in a book that explores the sounds a garbage truck makes.