Booklists
Kindergarten Books
The King of Kindergarten
By: Derrick Barnes
ISBN: 9781524740740
Instilled with confidence by his parents, a young boy has a great first day of kindergarten.
First Day Jitters
By: Julie Danneberg
ISBN: 9781580890540
Sarah is afraid to start at a new school, but both she and the reader are in for a surprise when she gets to her class.
Is your Buffalo ready for Kindergarten?
By: Audrey Vernick
ISBN: 9780061762758
Although kindergarten provides unique challenges for a young buffalo, one who follows the rules and tries his best will get along fine.
Kindergarten, Here I Come!
By: D.J Steinberg
ISBN: 9780448456249
Follows a child through kindergarten, from checking off a list of supplies for the first day through saying goodbye to the teacher on the last one.
Planet Kindergarten
By: Sue Ganz-Schmitt
ISBN: 9781452118932
A young child imagines going off to Kindergarten as a journey to another planet.
Kindergarten : where kindness matters every day
By: Vera Ahiyya
ISBN: 9780593484623
Leo, a quiet kid who is not ready for his first day of kindergarten, ends up having a great day when he makes a kindness pledge and discovers he knows a lot about being kind to others.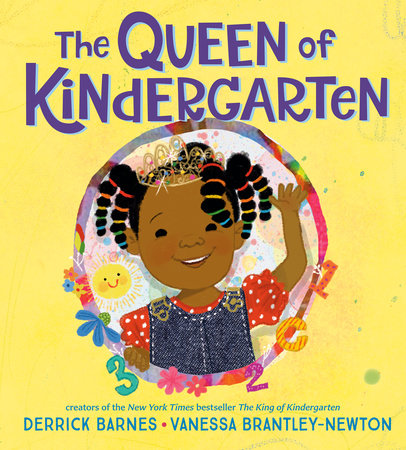 The Queen of Kindergarten
By: Derrick Barnes
ISBN: 9780593111420
Instilled with confidence by her parents, a young girl has a great first day of kindergarten.
Miss Bindergarten Gets Ready for Kindergarten
By: Joseph Slate
ISBN: 9780525454465
Introduces the letters of the alphabet as Miss Bindergarten and her students get ready for kindergarten.
The Kissing Hand
By: Audrey Penn
ISBN: 9780878685851
When Chester the raccoon is reluctant to go to kindergarten for the first time, his mother teaches him a secret way to carry her love with him.
Wemberly Worried
By: Kevin Henkes
ISBN: 9780688170288
A mouse named Wemberly, who worries about everything, finds that she has a whole list of things to worry about when she faces the first day of nursery school.