Booklists
Toddler Books
All by Myself
By: Aliki
ISBN: 9780060289294
A child shows all the things he has learned to do all on his own.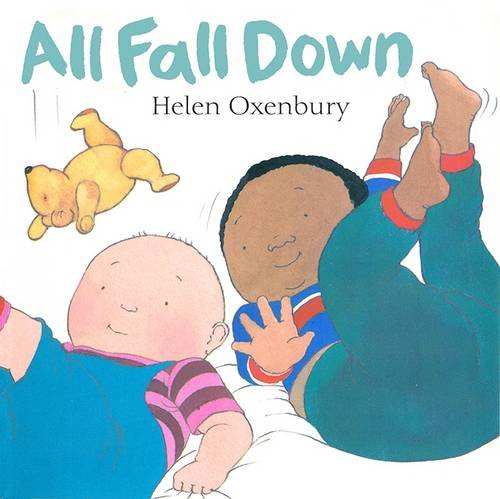 All Fall Down
By: Helen Oxenbury
ISBN: 9780689819858
"A baby enjoys running, singing, bouncing on a bed, and falling down." --MeL
Balance the Birds
By: Susie Ghahremani
ISBN: 9781419728761
When birds spot a tree in the gutter and decide to land and give their tired wings a break, it is up to the reader to help them find the perfect balance on the tree.
Bear Snores On
By: Karma Wilson
ISBN: 9781416902720
On a cold winter night many animals gather to party in the cave of a sleeping bear, who then awakes and protests that he has missed the food and the fun.
Cookie's Week
By: Cindy Ward
ISBN: 9780698114357
Cookie the cat gets into a different kind of mischief every day of the week.
Counting on Community
By: Innosanto Nagaro
ISBN: 9781609806323
"Living in community, / it's a lot of FUN! / Lets count the ways. / Lets start with ONE," Nagaro shows an urban community that is multicultural, supportive, and happy—exactly like the neighborhoods that many families choose to live and raise their children in.
Eat Up, Gemma
By: Sarah Hayes
ISBN: 9780688081492
Baby Gemma refuses to eat, throwing her breakfast on the floor and squashing her grapes, until her brother gets an inspired idea.
Everything Has a Place
By: Patricia Lillie
ISBN: 9780688100827
Text and pictures assign a cow to a barn, a dish to a cupboard, a family to a house, and other things to their place.
Finger Rhymes
By: Marc Brown
ISBN: 9780525297321
Presents 14 rhymes with instructions for accompanying finger plays.
Freight Train
By: Donald Crews
ISBN: 9780688801656
Brief text and illustrations trace the journey of a colorful train as it goes through tunnels, by cities, and over trestles.
Grandma's Purse
By: Vanessa Brantley-Newton
ISBN: 9781524714321
"When Grandma Mimi comes to visit, her granddaughter cannot wait to see what treasures she has hidden in her purse."-- Provided by publisher.
Handmade Love
By: bell hooks
ISBN: 9780786806430
A girl who is Girlpie to her mama and Honey Bun Chocolate Dewdrop to her daddy savors the warmth and love of her family.
Have you Seen My Duckling?
By: Nancy Tafuri
ISBN: 9780688148997
A mother duck leads her brood around the pond as she searches for one missing duckling.
Is Your Mama a Llama?
By: Deborah Guarino
ISBN: 9780590259385
A young llama asks his friends if their mamas are llamas and finds out, in rhyme, that their mothers are other types of animals.
Jamberry
By: Bruce Degen
ISBN: 9780694006519
A little boy walking in the forest meets a big lovable bear that takes him on a delicious berry-picking adventure in the magical world of Berryland.
Let's Get Dressed
By: Ruth Walton
ISBN: 9781597713832
"Discusses the different fibers and textiles our clothing is made from, including cotton, wool, and other natural and synthetic fabrics"--Provided by publisher.
Max's Bedtime
By: Rosemary Wells
ISBN: 9780670887101
Even though Max's sister offers him her stuffed animals, he cannot sleep without his red rubber elephant. On board pages.
"More more more" said the baby
By: Vera Williams
ISBN: 9780688156343
Three babies are caught up in the air and given loving attention by a father, grandmother, and mother.
Peek! A Thai Hide and Seek.
By: Minfong Ho
ISBN: 9780763620417
A father and daughter play hide-and-seek in the midst of the animals near their house in Thailand.
Sheep in a Jeep
By: Nancy Shaw
ISBN: 9780547237756
Follows a group of hapless sheep as they careen through treacherous landscapes in a jeep.
Sweetest Kulu
By: Celina Kalluk
ISBN: 9781927095775
"This beautiful bedtime poem, written by acclaimed Inuit throat singer Celina Kalluk, describes the gifts given to a newborn baby by all the animals of the Arctic. Lyrically and tenderly told by a mother speaking to her own little "Kulu," an Inuktitut term of endearment often bestowed upon babies and young children, this visually stunning book is infused with the traditional Inuit values of love and respect for the land and its animal inhabitants."-- Provided by publisher.
Ten in a Bed
By: David Ellwand
ISBN: 9781929766499
One by one nine bears fall out of bed when the littlest bear says "Roll over!"
Ten, Nine, Eight
By: Molly Bang
ISBN: 9780688009069
Numbers from ten to one are part of this lullaby which observes the room of a little girl going to bed.
The Little Red Hen
By: Mary Finch
ISBN: 9781846865756
The little red hen finds none of the lazy barnyard animals willing to help her plant, harvest, or grind wheat into flour, but all are eager to eat the bread she makes from it. Includes recipe for whole wheat bread.
The Very Quiet Cricket
By: Eric Carle
ISBN: 9780399218859
A very quiet cricket who wants to rub his wings together and make a sound as do so many other animals finally achieves his wish. The cricket's sound is reproduced at the end of the book.
Wait till the Moon is Full
By: Margaret Wise
ISBN: 9780064432221
A little raccoon wants to see the night but his mother makes him wait until the full moon.
Where's Spot?
By: Eric Hill
ISBN: 9780399207587
A mother dog finds eight other animals hiding around the house before finding her lost puppy. Flaps conceal the animals.