Booklists
Toddler Weather Books
Abracadabra, It's Spring!
By: Anne O'Brien
ISBN: 9781419718915
"Winter turns to spring in this lyrical book that celebrates the magic of nature and the changing seasons. Eleven gatefolds open to recreate the excitement and surprise of spring's arrival"-- Provided by publisher.
Bear & Hare snow!
By: Emily Gravett
ISBN: 9781481445146
Friends Bear and Hare go out and play in the snow.
Boom Boom
By: Sarvinder Naberhaus
ISBN: 9781442434127
An exploration of the four seasons, told through each season's distinct sounds.
Butterfly, Butterfly
By: Petr Horáček
ISBN: 9780763633431
"Lucy's garden is full of oclorful creaturs that wriggle and spin, scurry and slither." --MeL
¿Cómo está el tiempo hoy?
By: Kim Mitzo Thompson
ISBN: 9781625816238
Dimity Duck
By: Jane Yolen
ISBN: 9780399246326
Dimity Duck and Frumity Frog have a fun day together in the pond, then go home when it gets dark outside.
Elmer's Weather
By: David McKee
ISBN: 9781840594041
Elmer the patchwork elephant experiences wind, storms, fog, snow, and other kinds of weather.
The First Day of Winter
By: Denise Fleming
ISBN: 9780805073843
A snowman comes alive as the child building it adds pieces during the first ten days of winter.
I See Fall
By: Charles Ghigna
ISBN: 9781404865891
Illustrations and easy-to-read, rhyming text show what makes autumn special, from colorful leaves and pumpkins to Halloween and Thanksgiving festivities.
In the Tall, Tall Grass
By: Denise Fleming
ISBN: 9780805016352
Rhymed text (crunch, munch, caterpillars lunch) presents a toddler's view of creatures found in the grass from lunchtime till nightfall, such as bees, ants, and moles.
Little Penguins
By: Cynthia Rylant
ISBN: 9780553507706
"During the first snowy day of winter, five little penguins bundle up and venture outside to play"-- Provided by publisher.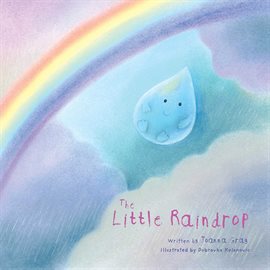 The Little Raindrop
By: Joanna Gray
ISBN: 9781628738216
"From cloud to puddle, and puddle to stream, Little Raindrop is making its way on the remarkable journey that is Earth's water cycle"-- Provided by publisher.
Lola Plants a Garden
By: Anna McQuinn
ISBN: 9781580896948
Lola plants a flower garden with her parent's help, and watches it grow.
Maisy's Wonderful Weather Book
By: Lucy Cousins
ISBN: 9780763650964
"Whatever the weather, Maisy knows how to have fun! Lift the flaps and pull the tabs to learn all about weather. Perfect for children 24 months and older." --MeL
Millions of Snowflakes
By: Mary McKenna Siddals
ISBN: 9780395715314
As snow begins to fall, a child counts the flakes, enjoying every one.
Mouse's First Snow
By: Lauren Thompson
ISBN: 9780689858369
A mouse tries many new things when he and his father go out and play in the snow.
Mouse's First Spring
By: Lauren Thompson
ISBN: 9780689858383
A mouse and its mother experience the delights of nature on a windy spring day.
No Two Alike
By: Keith Baker
ISBN: 9781442417427
Follows a pair of birds on a snowflake-filled journey through a winter landscape, where everything everywhere, from branches and leaves to forests full of trees, is unique.
Peppa Pig and the Muddy Puddles
By: Neville Astley
ISBN: 9780763672263
"There's so much rain! When Mummy Pig and Daddy Pig tuck them into bed, Peppa and her little brother, George, dream of all the puddles there will be to jump in the next day. Little do they know that the rain is turning their house into an island surrounded by water — making for a different kind of adventure for everyone!" --MeL
Planting a Rainbow
By: Lois Ehlert
ISBN: 9780152626099
A mother and child plant a rainbow of flowers in the family garden.
A Rainbow of My Own
By: Don Freeman
ISBN: 9780140503289
A small boy imagines what it would be like to have his own rainbow to play with.
Raindrop, Plop!
By: Wendy Cheyette Lewison
ISBN: 9780670036202
A young girl and her dog find many things to count on a rainy day, both as they play outside and after they come home to a warm, dry house.
Rainy Day!
By: Patricia Lakin
ISBN: 9780803730922
Four young crocodiles find all sorts of ways to keep busy on a rainy day.
Red Sled
By: Lita Judge
ISBN: 9781442420076
At night, a host of woodland creatures plays with a child's red sled.
Snowballs
By: Lois Ehlert
ISBN: 9780152000745
Some children create a family out of snow. Includes labeled pictures of all the items they use, as well as information about how snow is formed.
Tracks in The Snow
By: Wong Yee
ISBN: 9780805067712
A little girl investigates tracks in the snow, trying to determine what could have made them.
Tú serás mi rayito de sol?
By: Julia Lobo
ISBN: 9781680528473
Under My Hood I Have a Hat
By: Karla Kuskin
ISBN: 9780060572433
A child describes the many layers of clothing needed to brave the winter weather.